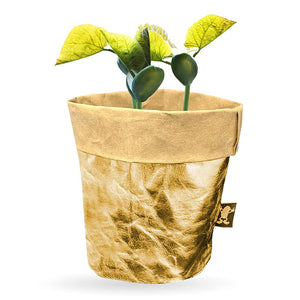 Gold Eco Pot
Regular price $10.95 Sale
Our gorgeous EcoPots offer a stylish way to grow and display your magic beans with a beautiful gold finish! Posted to you flat, these pots are made from super strong washable paper and are flexible and reusable.
ecoPot Care Instructions
Bean Me Up ecoPots are 100% washable. Over time it is normal for the metallic finish to mark with wear, so for long lasting metallic finish, light hand washing is recommended using a mild detergent before rinsing thoroughly and leaving to dry flat. For longevity, is it recommended to line your ecoPot with another planter or Bean Me Up tin. Although water will not damage the pot, it is not watertight and water will leak out, so use a tray underneath to avoid spills.
Price is for Eco Pot only - add/purchase beans separately